There are many sub-genres of fantasy adventure — high fantasy, low fantasy, style sword and sorcery, whatever Planescape is, and lots more.
But my favorite type of fantasy for a one-shot adventure is savage fantasy. Savage fantasy's defining pillar is that it is dangerous, unpredictable, and unbalanced.
Tough and unpredictable adventures are perfect for one-shots, largely because players tend to be more reckless with their characters. Everyone has fun when heroes get in over their heads, and then barely scrape by with their lives. And like a Call of Cthulhu game, if a character fumbles and dies horrifically, that often makes for a better story.*
The thrill and danger of savage fantasy comes from three sources:
Savage Foes
In savage fantasy, the enemies don't care what level the PCs are. If you sneak into a sorcerer's tower to steal his diamond, you don't know whether it will be guarded by a single, sleeping cultist… or a colossal snake demon that will devour your soul. And to keep players from getting too overconfident, savage fantasy GMs surprise players with exotic and unfamiliar monsters. Even if you're using the statistics of an off-the-shelf orc, a savage fantasy GM describes it as a malformed, barbed half-demon with three eyes — something that players will think twice about charging.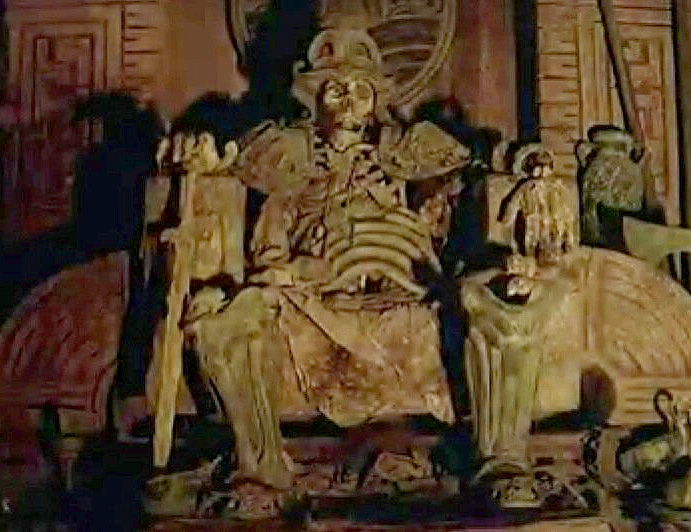 A Dangerous World
A savage fantasy world is dangerous, mysterious, and often unexplored. Savage adventures often take place in primeval jungles, lost ruins, and faraway seas. These are locales where the PCs will feel surrounded by the dangerous unknown and have the sensation that the natural world will eventually overcome them. Also, savage fantasy worlds often allow some degree of exploration and hint to adventures past and future — Atlantean swords buried in unexplained tombs, assassins who inexplicably know the heroes' plans, or a famous warrior has an unheard-of grudge against one of the PCs.
Bold Choices
Savage fantasy adventures let players make bold choices. A one-shot adventure is typically episodic, with a definitive beginning, middle, and end. But a savage fantasy adventure leaves opportunities for open-ended adventure, and always presents players with options to recklessly charge into the unknown. GMs should place plot hooks inside the adventure that give players agency, invite them to craft more of the storyline themselves, and hang themselves if they choose carelessly.
I decided to embrace sword and sorcery, savage fantasy in this month's one shot adventure — Queen of the Red City, available for both GURPS, D&D 5E, and Dungeon Crawl Classics.
Hither Came Conan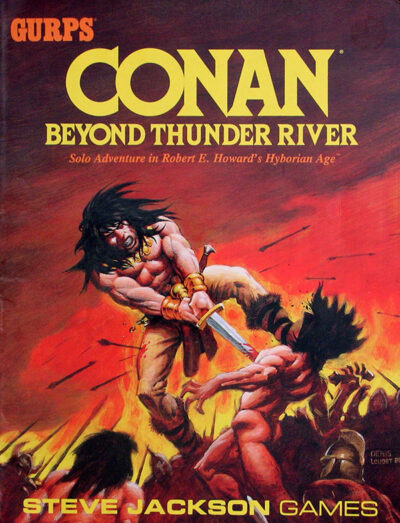 Set in Hyboria (the world of Robert E. Howard's Conan stories), Queen of the Red City is a sandbox adventure set on a lost jungle isle. I think it checks all the boxes of savage fantasy — a primeval jungle makes for a treacherous setting, there are varied and dangerous creatures, and the sandbox format means that players can be as cautious or as reckless as they want.
While there are no outright deathtraps in the adventure, there are definitely regions where PCs can get way over their heads. (I yet to have a party captured by armored man-apes and sacrificed to sarchosuchus crocodiles, but I'm hoping it happens…)
Because savage fantasy genre often features strongly self-motivated characters, I made sure to include a clear propelling force for each of the pregenerated characters. This is really key to a strong savage fantasy one-shot. Give each of your PCs a clear goal from the start. In Queen of the Red City, all the PCs have reasons to explore the island, some obvious (legendary treasure!), some personal (finding a lost sister), and some more complex (proving herself to be a better captain). But from the moment their PCs step off the boat on to the island, they are in charge of the adventure.
Download Queen of the Red City here:
Get QUEEN OF THE RED CITY - GURPS Conan

Get QUEEN OF THE RED CITY - GURPS Conan - Printer Friendly

Get QUEEN OF THE RED CITY - D&D 5E

Get QUEEN OF THE RED CITY - D&D 5E - Printer Friendly

Get QUEEN OF THE RED CITY - Dungeon Crawl Classics

Get QUEEN OF THE RED CITY - Dungeon Crawl Classics - Printer Friendly

Get QUEEN OF THE RED CITY - VTT Tokens & Assets
What are your favorite game systems for savage fantasy? Let me know in the comments below.
Related: Savagery in the Ice Age
*But if your adventure is REALLY dangerous… always provide backup characters to account for those unfortunate deaths!